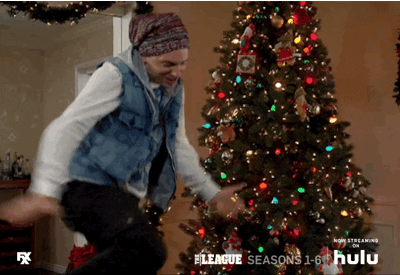 The kids are excited and you might be a little exhausted... but here we are! The last week of dance before winter break! YAY!... excitement is in the air BIG TIME! So to add to the excitement, students are welcome to dress festive this week! Keep it simple... add some red or green or a santa hat. Classes resume on Thursday, January 4th. Happy Holidays and make some great new memories!
Last Minute Gifts...
Let me help you! All Gifts come "wrapped" and ready to give.
TDH Tank Tops - $15 size XS, S, M child
You're The Super Balm - $10 R+F Lip Shield SPF 25 and 3 capsules of our Lip Serum to reduce the appearance of fine lines around mouth.
You're The Balm - $5 R+F Lip Shield with SPF 25
Get Your Glow On - $25 R+F Sunless Tanner
Couples Private Dance Lesson - $60 1 sixty minute lesson where we learn a social dance that can wow the crowd, and make you feel confident on the dance floor. A bottle of wine and box of chocolates is included. A perfect, memorable date night! Order a Gift Certificate and schedule after the Holidays!
New Years Resolution Time!
What are yours? The top three are:
1. Look Better
2. Feel Better and
3. Make More Money! Well, TDH can help with all of those. Sign up for a my Yoga, Boogie Fit, Ballet, or Tap classes to spice up your fitness routine to help you feel better and look better. You'll find that TDH offers very reasonable rates, whether it's a monthly, drop in or punch card. Still not convinced? TDH Virtual Experience is only $20 a month! Way less than a gym membership... and that monthly subscription gets you access to ALL those classes!