It's the Most Wonderful Time of the Year...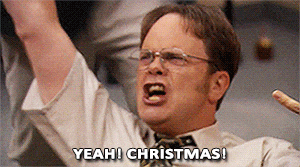 Anyone else Laughing at this GIF? (You're so my people.)
This is the last official blog of 2018 and because of that, it's a little longer. It's hard to believe and yet here we are. As I sit here by the fire place, with my feet up looking at my Christmas tree I am able to just pause, and breathe in deeply ~ Gratitude.
So much has happened this year with The Dancing House. Goals were reached, new opportunities were presented and taken and because of that TDH saw huge growth this year. Sure, there were some hiccups, or stepping stones as I like to call them, but over all 2018 has been a very good year.
Thank you for being part of the ride. If you are reading this blog you are part of it. You listened, you "liked," you referred, you participated, you came back, you asked questions, you encouraged or you read. All it counts. A mama doesn't wake up one day and have a business that provides for her family. There are a lot of people along the way that make it happen. So from the bottom of my heart. Thank YOU.
The December Student of the Month is Miss Madelyn Curtis!
Madelyn loves to read, swim and play golf. She is a loving and helpful big sister to her three younger siblings. Madelyn is always looking for ways to serve others, whether she's volunteering at feed my starving children, serving on her school's student council, or helping mom and dad around the house.
Madelyn is a brand new student to TDH this year. And it's been fun to watch this young lady start to blossom. There is a part of our dance class every week where I let the kiddos free dance. Usually to a slower song, so they can shine their lights the best way they can through dance.
It's one of my favorite parts of the class, for the parents as well, because the students are just being their real self. However, this can also be a place of insecurity. And I remember Madelyn coming up to me with teary eyes the first day saying, "But I don't know how to dance." With a room full of other young ladies just flowing to the music, I said, "Just do what the music tells you."
Well Miss Maddy C., as I call her, froze. So I held out my hand, and she was brave as we danced together. We did this for about 6 weeks. And then she started dancing on her own. Now she's full on dancing to "what the music says" and shining her light so bright. You should see her leap!
Y'all, this is the part of teaching that I love. Seeing the growth in confidence. Dance is so much more then learning steps and getting your lines right. Gaining a new skill is great... but it's the path to get there that's so important to me. Watching students take 3 steps forward, and then struggle, only to come back next time and try harder and exceed what even they thought they could do fills my heart. ~ A lesson for us all.
Our Charity this month is to Bless a Senior
Gramma Jeanette has been part of TDH for years... she used to watch my youngest two when they were little so I could teach. Now she has grown as a dear friend, who I gather wisdom from at least once a month.
Gramma Jeanette has had extensive health issues over the years, so that she is unable to work. Thankfully, she is still able to live in her apartment on her own, but her health continues to be a challenge.
To fill her days at home, Gramma Jeanette has taken up knitting and crocheting. She's gotten pretty good. :) You will be seeing her hats and mittens, hung up around the studio for you to have for yourself or a gift. A donation is all that's asked, and TDH will match what ever is given. Thank's y'all.
Lots of Options as we close this year!
Gift Certificates are available for any amount. They can be used towards a class, a session, a monthly membership to TDH Virtual, a coaching, a couples dance class.
Here are some ideas for you!
8 week Session of Dance: $100
Private Dance Coaching $50 for 45 min. or $60 for an hr.
Couples Dance Lesson: $60
1 monthly of TDH Virtual: $25
1 drop in class: $15
New 8 Week Sessions Coming in 2019!
3-5 year. Tap & Tumble - Thursdays 9:30-10:15a January 3- February 21 $100 - A great first dance class experience for these little people. We learn how to take a dance class and work together by learning foundational tap steps and sounds. Over the course of 8 weeks they will learn a little tap dance. Large motor skills are further developed when we go to the mats to stretch and discover more movement vocabulary.
Teen - Adult Beginner Tap - Wednesdays 6:45-7:30pm. January 23 - March 13th. $100 - Whether you're learning from the very beginning, or it's been few years, we'll have a blast creating rhythm with our feet and creating a dance for you to show off just in time for spring break! Click here to register.