It's March!!! FINALLY! And I have Lots to Say!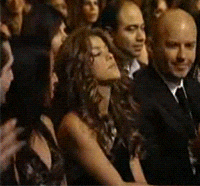 It's no secret that Winter is not my favorite. I miss my garden and walking outside in flip flops. However, this short month of February can feel like the Looooongest month of the year. So when I saw this GIF, I was like YES!
March has GOT to better than February. Snow has worn out it's welcome, and I'm done shoveling. So so thankful for neighbors with snow blowers.
We had record snow fall, and the most canceled days of school ever. And because of that I am offering some make up times. Please make sure you have these dates on your calendar. Anyone is welcome to take these classes. Even if you aren't a student, and you just wanna check out TDH. :)
Saturday April 13th will be a make up class day.
9-10am 4/5 yr. tap classes from Wednesday and Thursday
10-11am 7-9 yr. tap class Thursday class
11-12p 8-12 yr. Hip Hop Thursday class
12-1pm Adult Ballet Level 1
NEW MONTH : NEW BOOGIE FIT DANCE!
Pitbull Anyone? Mr. Worldwide ;)
Making Mondays Awesome!
Best Workout EVER!
6:30-7:30p
$15 drop in or $45/month or $50 for 4 class punch card.
SPRING BREAK CLASSES!
I will be hosting all my adults classes at their normal times. Would love for you to join us!
Ballet III Monday @ 11:30-12:30p
BoogieFit Monday @ 6:30-7:30
Wednesday Tap @ 6:45p - 7:30p
Thursday Ballet @ 7-8Pm
AND my FREE Customer Appreciate Event! For past, present and future students of TDH!
Wine & Warriors!
Come for the Yoga, stay for the Wine.
Thursday, March 21st @ 8pm FREE!
8 week 3-5yr. Tap & Tumble Classes
There are still some openings for these fun introductions to dance class. Session includes tap shoe rental, TDH tank top & memorable experience. :)
Wednesdays, March 27 - May 16th 9:30-10:15am. $100 CLICK HERE to Register
Thursdays, March 28 - May 17th, 9:30-10:15am. $100 CLICK HERE to Register
February' s Student of the Month!
Miss Nora Mae Johanek!
This young lady is full of JOY! Love her smile coming into class, and how hard she works. Especially when the steps don't come as easily for her. She doesn't get frustrated... she is patient with herself and keeps on trying. Life lessons y'all. :)
Nora Mae has an intense passion for life. She has been a grand adventurer since she was a baby and is always up for exploring a new place. Her favorite things include her pets, her family & Laura Ingalls Wilder. If she has free time you'll find her coloring away listening to one of her audiobooks.
Her big plans for 2019 include learning more about her great-grandpa's farm, visiting Colorado & Utah, taking dance class with her friend Maddie, going on humongous hikes and climbing trees.
If you see Miss Nora around give her a high five! or hug. I'm more of a hugger :)
I'm BEYOND EXCITED
To announce our Summer Classes to the line up at TDH! I announced our camps in the last Newsletter, but now classes have been added!
There are a lot of offerings for students of all ages! And NEW Teachers at TDH! Formal introductions will be made in our next Newsletter. TDH is growing, and it's thrilling to bring on some new teachers.
Check out the Summer Schedule Here!
OH! And remember. TDH Virtual is always a great option if those class times or dates do not work for you.
Students of all ages 13+ can learn online. Whether they are starting out, or wanting to grow their technique. You can try your 2 week trial by Clicking HERE!
Some of my favorite quotes from TDH Members:
"I love how you teach the class. You explain how we should feel and what we should be feeling." - Kim G. TDH V.E. Member
"I think I tapped for over an hour today. Thanks for giving me something I really enjoy." - Arlene B. TDH V.E. Member
"You my friend are an amazing yoga instructor, and I have done lots of yoga." - Mary K. Member of TDH Yoga VIP Free community.
"Just wanted you to know that I tried your yoga from this morning and love it! ...I have noticed that taking yoga from a dancer is more enjoyable to me than someone who is only certified in yoga." - Lindsey H. Member of TDH Yoga VIP.
What are you waiting for? Grab YOUR FREE TWO WEEKS inside the membership!
A little tap tutorial for you!
The Dancing House
73 Tribute Ave. Hudson, WI 54016
651-470-4846