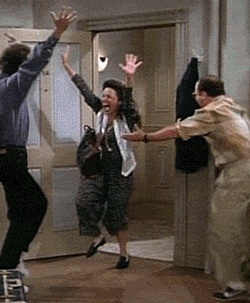 It is with sheer joy that I officially announce my newest team member! Miss Aubrey Busch!
As you know, I have been a one woman show for many years and that has been by design. But as my classes have grown, and my family is growing up, I have been searching for someone to take on some of the classes for me, so I can focus my energy on being #1. a mama, and #2 growing the business.
I am thrilled that Audrey came into my path and I truly think she will be a great addition to TDH.
Audrey will be coming to my Tuesday classes starting in April, to help assist me and learn the ropes so that she can take on her own classes this summer! Along with teaching this summer, I look forward to handing off some classes to her next season to allow her more opportunities to shine her light! I'm also looking forward to giving my students another dance education perspective! If you get to see her in the studio, please give her a warm welcome.
Speaking of next season - the 2019-2020 season will be announced April 1st! No foolin'. If you are a CURRENT TDH family, you will be able to sign up for classes and lock in this years tuition rate for next year ON APRIL 1st. On April 15th, the season will be open to the general public.
March Student of the Month!
Miss Morgan Cunningham is a hip hopper in my Thursday night class. She joined later in the dance season, but that hasn't held her back! When she came to class the first time, we recorded what we learned. The next week, she came back and basically re-taught me! It was awesome. I love it when students take ownership of their learning. That characteristic will get your far Miss Morgan.
It's not just about dancing. Dance is the vehicle for these great life lessons.
Morgan is in 3rd grade at E.P. Rock. Her favorite things to do are cooking, reading, crafting, math, and of course dance! Her best friend is Emma and her favorite color is pink. :) If you see her around, give her a high five. Or a hug. I'm a hugger ;)
This pic, is seriously one of my favorites! How cute is she? Can you stand it?
Our 3-5 yr. tap and tumble classes start the week of March 25th. And there are still a few spots available in the Thursday session.
8 Week Session Tap & Tumble Class
Ages 3-5 yr.
Thursday, Marcy 28 - May 16
9:30-10:15a.m.
$100 - includes shoe rental, TDH tank top and amazing memories!
Hit reply and I'll get you registered!
Summer Dance Camps & Classes!
It's hard to believe, but some of the girls in this picture are 10-12 years old! Eeek!
But here is a list of Summer Lessons & Camps!
And yes, they are starting to fill... so grab your spot. Payment is NOT due until two weeks prior to the camp or classes.
Oh! And LOTS of classes for both Adults & Children! CLICK HERE to see the list!
Did you know...
That I do a "#HowTo Video every Friday morning at 7am on my Facebook page?
It might be a tap video like the one here, or a yoga stretch or a strength exercise. Something that you can try and learn that might start your day off on the right foot. (Pun totally intended.)
So click the video here and try this one! If you like what you see, head on over to my home page, and grab 2 weeks of TDH Virtual FREE! More classes and tutorials and dances that you can learn, all on demand! CLICK HERE to start your online training!
Hey! One Last thing!
Are you around this week? Come join us for our FREE Event!
Wine and Warriors.
8pm on Thursday, March 21st
A gentle, restorative yoga class, followed by wine and giggles. It's always a good time.
We'd love to see you!
RSVP by texting 651-470-4846 or
click here to send me an email!
Adult Dance Classes this week!
Monday 11:30-12:30 Ballet
Monday 6:30-7:30p BoogieFit
Wednesday 4:30-5:45 Ballet
Wednesday 6:45-7:30p Tap
Thursday 7-8pm Ballet
Come and join us!
The Dancing House
73 Tribute Ave.
Hudson, WI 54016
651-470-4846