It's the Final Countdown!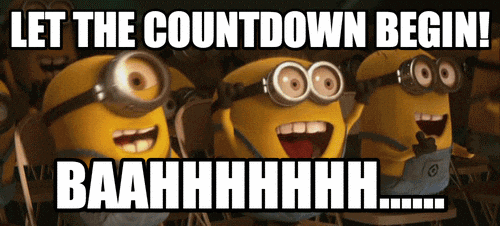 Starting this week, there are only 5 more weeks! Five. Cinco. A handful. Literally. How can that be? Every year it goes faster and faster. And yet here we are.
This past weekend we had snow days make up on Saturday and some of the students got to perform their dances for each of the classes. It was fun to see them "show off" what they learned for each other. It also gave them an opportunity to see what they need to work on yet give them an extra boost of confidence for the material they knew well.
We're in the final stretch... Dances have been taught and we will polish as best we can. But we will also have a bit more "fun in class" with more mat time, learning new steps or incorporating dance games to work on terminology.
Speaking of Final Countdown...
Starting Monday, tomorrow, April 15th, the general public can register for classes at TDH for the 2019-2020 Season! Whoop Whoop!
Remember my Referral Program!
If you refer someone new to The Dancing House and they become part of the family, you BOTH get a $25 Gift Certificate to TDH!
Summer Camps & Classes!
They are starting to fill, and this camp, Unicorns & Rainbows is nearly full! SO I wanted to make sure you knew about it.
Make sure your kiddos are having a memorable summer! TDH Camps include shoe rental, camp tank top, & and a visit from a very special guest!
REGISTER FOR CAMPS & CLASSES HERE!
Here are some other summer camps options at TDH!
Rock 'n Roll - June 17-21 : 1-3pm : ages 6-8yr.
Mary Poppins - June 24-28 : 9:30-11:30am : ages 3-5yr.
Mary Poppins - July 29- Aug. 2 : 1-3pm: ages 6-8yr.
Princess Camp - Aug. 5-9th : 9:30-11:30am : ages 3-5yr.
#HOWTO Dance
Every Friday I do a "#HowTo Video on my Facebook page.
This week it was all about getting those Ballerina legs via the famous Plié!
In this video I break down how to do a Plié and do a sequence with music. Something that you can try along with me that starts your day off on the right foot. (Pun totally intended.)
Go ahead and click the image to try it out!
OR head on over to my home page, and grab 2 weeks of TDH Virtual FREE! More classes and tutorials and dances that you can learn, all on demand! CLICK HERE to start your online training!
You know you've been teaching awhile when you see past students becoming parents. Or teaching the next generation. (Both happened to me this past weekend.)
I'm officially a "Gramma" in the dance world.
I taught Ari many years ago... almost 15yrs. ago at an art camp. Since then I have worked with her as a teacher and choreographer. Now she assists me with my first year ballet students. Last night I got to watch Ari shine her light so bright at The Phipps Dance Company concert. She was stunning! And I was so proud of all the dancers & the directors. Such high quality dancing and choreography! It was truly beautiful.
My current students also were there, Elsie (the littlest one) is in the ballet class that Ari assists.
It's a surreal moment when you watch your students continue their love for dance. It's such a joy to be part of their life in this way...
TDH is on the Map!
The Dancing House has experienced some amazing growth these past few years and I'm super thankful.
Because of all of you, I recently was featured on a podcast with Ursula Mentjes. I invite you to take a listen as you're running kiddos around, folding laundry or on your next walk.
My hope is that you find it inspiring and encouraging.
If it resonates with you, please share it with your tribe, or consider writing a review for Ursula. I know she'd greatly appreciate it.
Click on the photo to listen! It's about 30 minutes!
"An Enthusiastic & Encouraging Atmosphere for Students of all ages to Experience & Learn the Art of Dance - In Person or Online."
73 Tribute Ave.
Hudson WI, 54016
651-470-4846
Melissa@thedancinghouse.com